Italy
Competition
2001 – 2003

Description
Project thesis: The structures for Bolzano were developed for the functions of a Museum of Modern Art in the city of Bolzano in Alto Adige. The thesis of the project is to organize the given space allocation plan not in superimposed levels, but on the 4 spread-out lateral surfaces of a four-sided oblong section. A segment of the plan is dusted onto each of the surfaces. This results in the 4 programmed sides D, C, B and A which, when turned to the left, the right, up and down, enclose a programmable volume E. In the case of the Museum of Modern Art in Bolzano, the 4 sides A, B, C and D are programmed as the administration, the library, the study area and the media space. Each plan segment is assigned volumes in rapid association, which then occupy and deform one of the 4 sides. Abstract and empty at first, the sides are thus settled and inhabited by program volumes. This programming of the sides A, B, C and D results in the submission of both the plan and the tectonics to be programmed.
---
MOMA Bolzano
The City of Bolzano chose a less than inspiring site for the construction of a public building: an oblong plot that, though it borders the Talvera river on one of its short sides, is otherwise overwhelmingly engaged in buffering the posturing of and gaps in the surrounding building stock. We therefore proposed a project that would not emerge from a discourse with its surroundings, but instead a structure that entertains a monolog of self-reflection on its own issues. This monolog of self-reflection is also the precise moment where the project can engage with the seemingly unalterable parameters of architectural production.
Consultants
Kostenberechnung | Cost calculations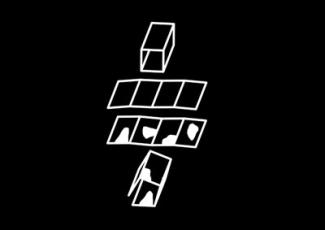 4 interconnected surfaces replace the building site. A group of functions is applied to each of the 4 surfaces.  
4 miteinander verbundene Flächen ersetzen das Grundstück. Auf jeder der 4 Flächen wird eine Funktionsgruppe aufgestaubt.  
© TWA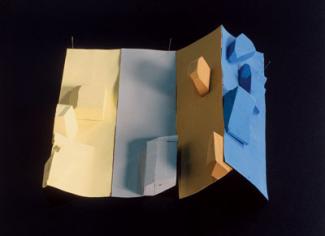 Sketch model, 4 unfolded surfaces with articulated connections and functions applied.  
Skizzenmodell, 4 augeklappte Flächen mit gelenkiger Verbindung und aufgebrachten Funktionen.  
© TWA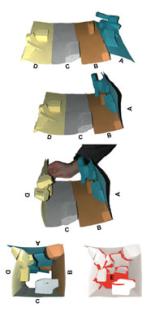 The 4 programmed surfaces A, B, C, D are folded into a prism. The random joining of the 4 programmed surfaces forms space E.  
Die 4 programmierten Flächen A, B, C, D, werden zu einem Prisma zusammengeklappt. Durch das zufällige Zusammentreffen der 4 programmierten Oberflächen wird Raum E gebildet.  
© TWA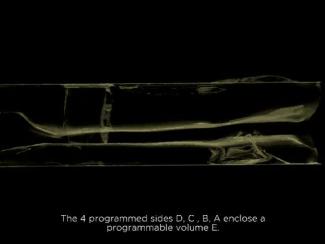 Programming
Animation 54 seconds
Programmierung
Animation 54 Sek.
© S.T. Gudmundsson