Vienna, Austria
Study
2004

Description
The experimental design BVA3 documents movements that occur in geometries resembling buildings, in skeleton frames. Alien bodies cause these movements by their attempts to settle in the skeleton. Both skeletons and settlers are animated. They are alive. They can, to a limited extent, alter their form, dimensions and mass. They are in a reactive relationship to each other; they react to one another.
I recall a description of Proust's room. It was during his work on the cathedral. The walls, furniture, horizontal and vertical surfaces were papered with notes, with layer upon layer of written phrases and documents. It was as if the surface of the writing paper, this restricted horizontal working plane, were not enough. The sentences climbed up within the space, the surfaces of the room functioning as climbing aids.
The skeleton frame of BVA 3 divides space. It separates space into lots. It makes space developable at any arbitrary point. Any position can be occupied directly and immediately.
The skeleton and the settlers are animated; they react to each other with rhythmical changes of volume and surface. Processes of expansion and contraction, bursting and imploding, disintegration and extraction become apparent. Visible settlers, invisible settlers, spirits and solid bodies. Every phase of the movement can freeze.
---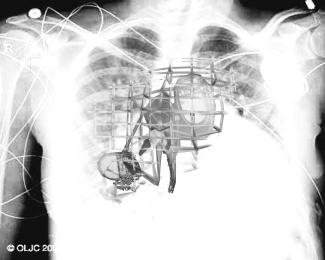 X-ray photograph, montage  
Röntgenbild, Montage  
© TWA, Michael Weingärtner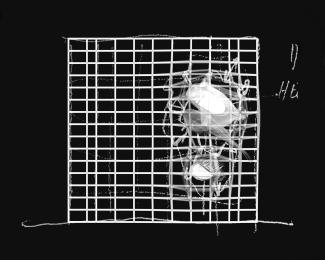 "Breathing", frame 266, front view of the field of experimentation: geometry of a large skeleton frame sligthly expanded, pacemaker.  
"atmen", Frame 266, Ansicht des Aktionsfeldes: Geometrie einer großen, leicht gedehnten Skelettkontruktion. Herzschrittmacher.  
© TWA, Michael Weingärtner